The Dorflinger Glass Museum Gift Shop specializes in wares made from glass. From a variety selection of glass jewelry to handcrafted ornaments to a huge selection of paperweights, the shop has something for every taste and every budget. A large number of items are made in the United States, including glass from Mosser Glass, Cambridge, Ohio; Glass Eye Studio of Seattle, Washington; and Blenko Glass Company of Milton, West Virginia.
Mosser Glass
Mosser Glass is one of the many product lines featured in the shop. This extraordinary line of hand-blown art glass vases and paperweights incorporates the use of precious metals such as gold and silver and rare oxides such as cobalt and copper.
Glass Eye Studio
Every piece of handcrafted glass of Glass Eye Studio contains Mt. St. Helens ash. For 30 years, this family of glass artisans has created innovative and fresh pieces to match any home décor with designs and color to dazzle. Their ornaments, vases, and paperweights show the beauty of glass and the skill of the artist who creates it.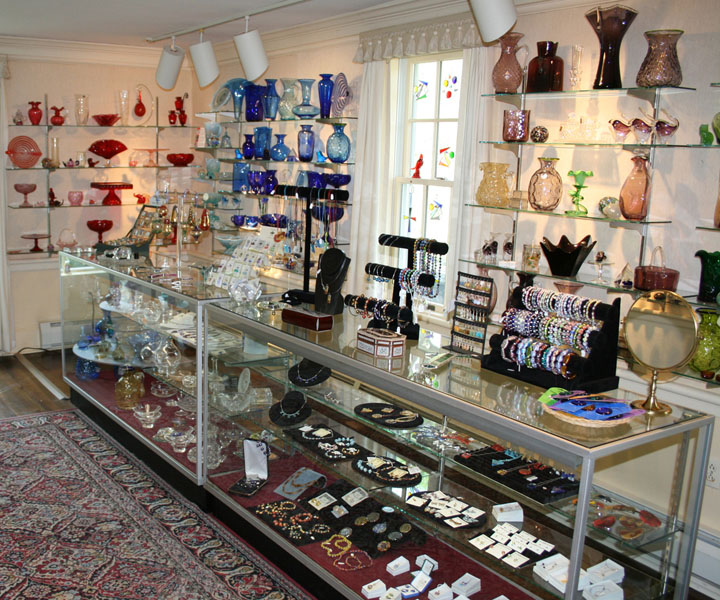 Blenko
For over 100 years Blenko has maintained the tradition of hand made glass. Their handmade vases, baskets, and bowls are unique and inspiring. Noted for the exquisite color of their work, all glass from the Blenko is made in small batches. The air bubble, line or individual marks left by the craftsmen are not flaws but rather the distinctive nature of the handmade process.
These are just a few of the companies available at the Dorflinger Museum Gift Shop. There is no finer selection of gift items of glass in the area, and a visit to the shop is a must for both local residents and visitors.
Volunteers donate their time to staff the museum and museum shop. The museum shop is an important source of revenue, which helps to support the museum. Admissions and museum shop sales are the primary sources of funds for the museum.