Historic White Mills Fire House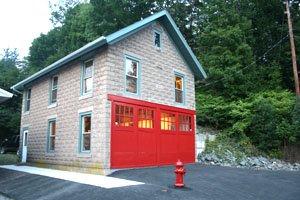 The historic White Mills Fire House is part of the Dorflinger-Suydam Wildlife Sanctuary's historic White Mills project. In recent years the Sanctuary has made great strides in highlighting the historical significance of the glass cutting industry and the town of White Mills. Much help is still needed.
It is hoped that one day the White Mills Fire House will hold the definitive collection of the history of White Mills. This can only be done with the air of neighbors and friends.
If you have an artifact connected to White Mills, please consider donating or loaning it to this endeavor. Instead of having it tucked away in a drawer or attic, please share it so others might also enjoy and learn from it.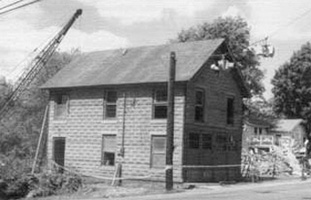 Help is also needed from volunteers willing to staff the museum so it can be open at certain times throughout the year. If you have a few hours throughout the year, perhaps you might consider volunteering to welcome visitors and answer questions.
White Mills has a rich history filled with strong, hard-working people and many wonderful moments. Won't you help keep that history alive?
If you have something to give or to loan to the museum, or you have questions concerning the museum, please contact us Joan Gillner, Sanctuary Executive Director, 570-253-1185 or Todd Stephens, Historic White Mills Fire House Chair, 570-253-0676.
Photos from the Fire House Move
Reprinted from the Winter 1999 edition of Sanctuary, the newsletter of the Dorflinger-Suydam Wildlife Sanctuary, Inc.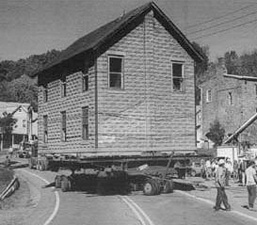 The Fire House inches its way east on Route 6 with the original Dorflinger glass cutting shop in the background.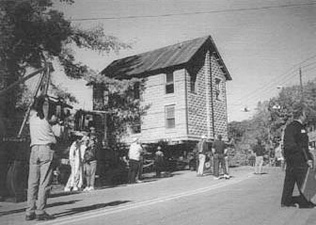 The Fire House begins its move up Park Street toward Route 6.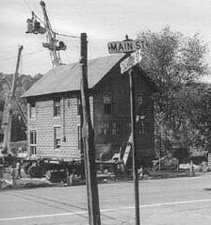 The White Mills Fire House on special wheeled hydraulic dollies about 25 feet from its original position as it is lined up by mover Andy Burr for the historic move.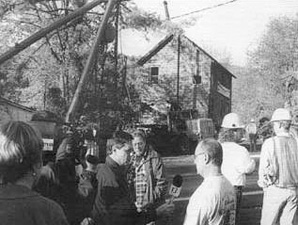 Project chairman Wayne Stephens during an interview by Channel 13.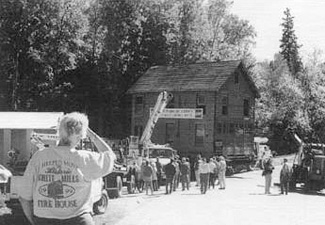 An enthusiastic supporter (modeling t-shirt) watches as the Fire House is pulled to its new home.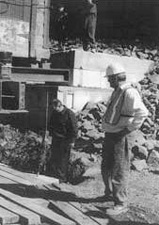 Leeward Construction's Eric Linde thinks, "Measure twice, move once," as Mr. Nicholas from Nicholas Brothers checks the alignment of the building.