You've Seen What They Made; Now See How They Lived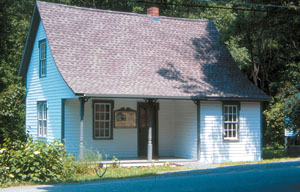 Christian Dorflinger received his training in all aspects of glass making, blowing, cutting and decorating in an eight year apprenticeship at the Cristalleries de Saint Louis, France. He emigrated to the United States in 1846 and established several glass factories in the New York area. In 1865 he moved his family to White Mills where he built a glass factory and a factory town.
Dorflinger recruited seven highly skilled workers from Saint Louis-les Bitche, France. The group arrived in the United States in March of 1866. Christian Dorflinger immediately began building workers houses for them, initially seven small, sloped roofed houses similar o the workers houses he knew in France. Once these houses were completed others were constructed. It was reported that by January of 1869, thirty-three dwelling houses had been erected to accommodate 182 employees and their families. Some of these houses were double, and in a few cases, triple houses. Eventually the number of homes Dorflinger built for his employees was close to 100.
The houses built in 1866-1867 for the families of skilled workers were modified in 1875. In 2001, this house, the fifth in line of the original seven, was restored to its 1875 appearance.