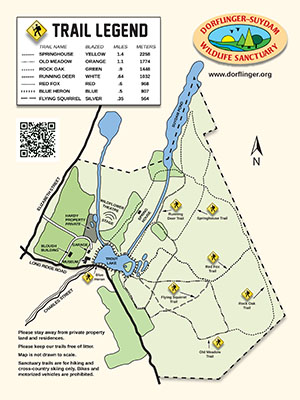 Please keep our trails natural.
Pets are not permitted.
No hunting, fishing, swimming, or sunbathing.
Picnics are not allowed except on designated days and times.
No use of wheeled vehicles on the trails (motorized or manually operated).
Please leave wildlife alone.
Leave the flowers, plants and trees as they are. No digging or cutting.
No organized sports games.
Leave only your footprints. Please don't litter.
Professional photographers must have a permit.
Drones are not allowed as the Sanctuary is private property.
As they say, "Take nothing but pictures and leave nothing but footprints."
View/Print a larger version of the map.
View/Print a larger version of our trail rules.